The march of progress has been a long time coming for Compal. Ever since the start of my tenure way back at NotebookReview, people have been consistently curious about their 15" notebooks. These machines always featured high-resolution screens and powerful dedicated graphics in an appealing form factor. The shell stagnated for a long time, but with the PBL21 that era comes to a close. Updates to Sandy Bridge and NVIDIA's GeForce 500M series accompany a healthy change in style.

Compal PBL21 Specifications
Processor
Intel Core i7-2630QM
(4x2GHz + HTT, 32nm, 6MB L3, Turbo to 2.9GHz, 45W)
Chipset
Intel HM65
Memory
2x4GB Kingston DDR3-1333 (Max 2x4GB)
Graphics
NVIDIA GeForce GT 540M 2GB DDR3
(96 CUDA Cores, 672MHz/1344MHz/1.8GHz core/shader/memory clocks, 128-bit memory bus)
Display
15.6" LED Glossy 16:9 1920x1080
(AU Optronics AUO10ED Panel)
Hard Drive(s)
Kingston SSDNow V Series 128GB SSD
Optical Drive
DVD+/-RW Drive
Networking
Realtek RTL8168 PCIe Gigabit Ethernet
Realtek RTL8191SE PCIe 802.11b/g/n
Audio
Realtek ALC269 HD Audio
Stereo speakers
Headphone and microphone jacks
Battery
6-Cell, 11.1V, 5200mAh, 58Wh battery
Front Side
Wireless switch
Card reader
Left Side
Kensington lock
Exhaust vent
VGA
Ethernet jack
USB 3.0
HDMI
Right Side
Headphone and mic jacks
2x USB 2.0
Optical drive
AC adapter
Back Side
-
Operating System
Windows 7 Home Premium 64-bit
Dimensions
14.82" x 9.8" x 1.37" (WxDxH)
Weight
5.51 lbs
Extras
2MP webcam
Flash reader (MMC, SD/Mini SD, MS/Duo/Pro/Pro Duo)
USB charging
Warranty
1-year limited warranty and lifetime technical support
Pricing
Starting at $949
Priced as configured: $1,190
I find the more notebooks I test the more fond I become of Intel's Core i7-2630QM. Last generation didn't really have a proper entry-level quad-core unless you count the Core i7-720QM, and that chip was a rare find south of a grand. But Intel seems to be pricing the i7-2630QM to sell, because I'm seeing it pop up all over the place; on NewEgg you can find it in an Acer notebook for just $699. It's a good thing, too, because while the i7-720QM occasionally found itself having a hard time competing with its dual-core brethren, the Sandy Bridge-based i7-2630QM is plenty fast. It starts at a 2GHz clock speed and can turbo all the way up to 2.9GHz on one core or 2.6GHz on all four cores, and each of those cores is Hyper-Threading enabled.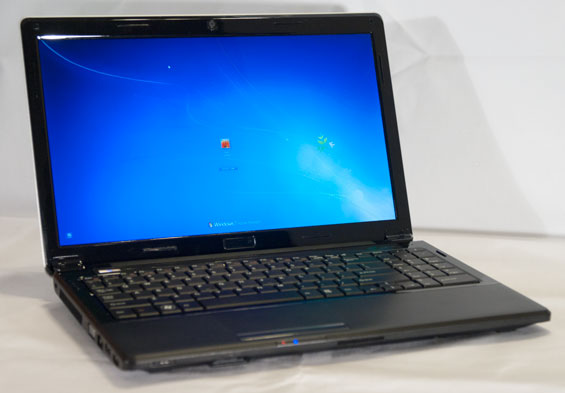 Strapped to the i7-2630QM's memory controller is 8GB of DDR3-1333 in two DIMMs, and supporting it on graphics duty is NVIDIA's GeForce GT 540M with 2GB of DDR3 (honestly far more than this GPU can really take advantage of). I'm curious to see how well the GT 540M competes with the last model's AMD Mobility Radeon HD 5650. In the Compal PBL21, the GT 540M features 96 of NVIDIA's CUDA cores, with a base clock speed of 672MHz and the shaders operating at 1344MHz. That 2GB of DDR3 is thankfully strapped to a 128-bit memory bus and running at an effective 1.8GHz. It's not blazingly fast, but mercifully the benefit of a 1080p 15.6" screen is that running at a lower than native resolution doesn't look that bad.
For storage duties, CyberpowerPC equipped this review unit with a 128GB Kingston SSDNow V Series SSD. It's not the fastest SSD on the market, but it still beats mechanical storage for speed and it keeps costs down. Connectivity has gotten a small but much appreciated boost with the new chassis, though: the Compal PBL21 is now USB 3.0 enabled (but still no eSATA).
GAME BENCHMARK
For testing the Compal PBL21's NVIDIA GeForce GT 540M, we'll run through our "medium" and "high" testing suites. It's fast enough that it'll handle any of our "low" presets with aplomb; at the same time, the 128-bit memory bus and DDR3 attached to the GPU will, as you'll see, basically ensure that the PBL21 can't really game at its native resolution. While we don't show minimum framerate results, suffice it to say even if the game is able to exceed an average of the magical 30fps at 1080p, it's a muddy experience.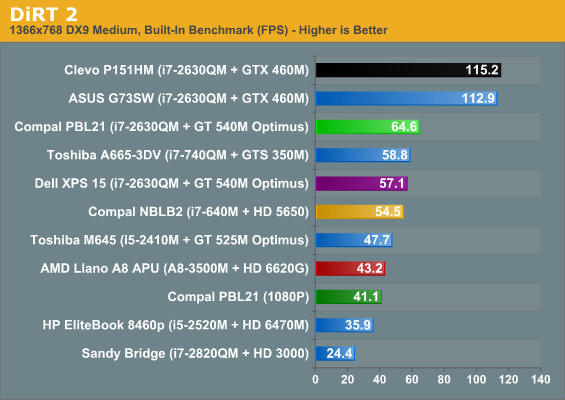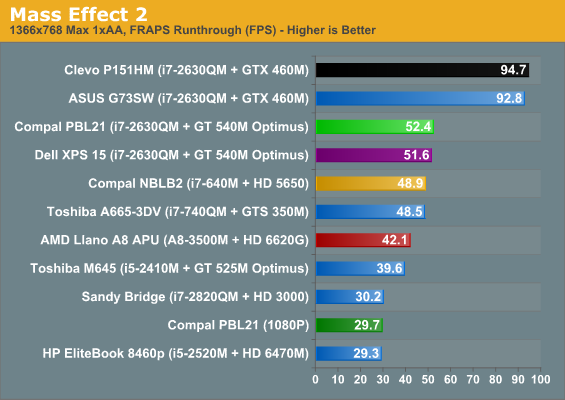 Generally speaking, the NVIDIA GeForce GT 540M is a practical improvement over the last generation's AMD Mobility Radeon HD 5650. But, still it can not compete with the older NVIDIA GTX 460M.
Source : http://www.anandtech.com/show/4462/cyberpowerpcs-compal-pbl21-the-sharks-new-teeth